LEAH fellowship builds DNP student's "academic backbone"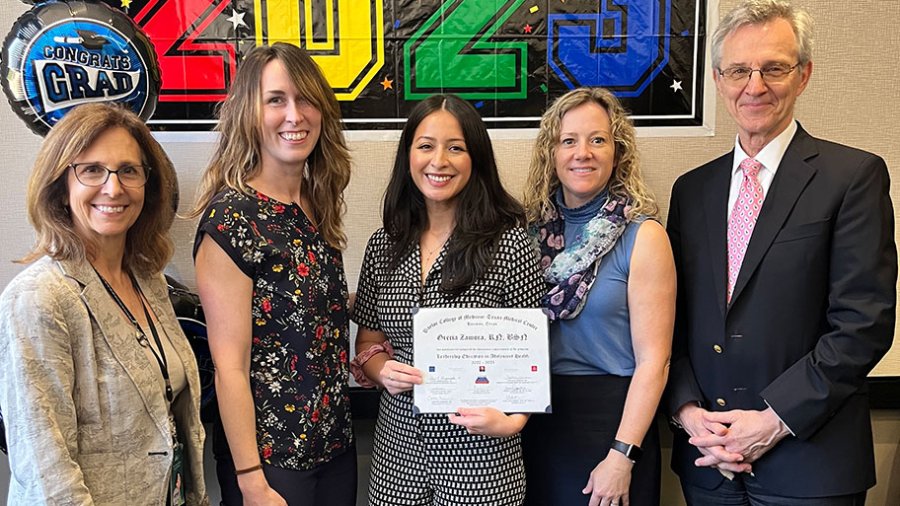 Grecia D. Zamora has worked in mental health ever since she became a registered nurse, and the Leadership Education in Adolescent Health (LEAH) Fellowship she recently completed nudged her career path toward working with youth.
Zamora is the first Cizik School of Nursing at UTHealth Houston student to participate in the Baylor College of Medicine-Texas Medical Center LEAH, which was established in 2022. The fellowships are funded by a five-year, $2.3 million grant funded by the Health Resources and Services Administration and the Maternal and Child Health Bureau. Other institutions collaborating on the grant include the UTHealth School of Public Health, Texas Children's Hospital, and the University of Houston's Graduate School of Social Work.
Originally from Houston, Zamora earned her Bachelor of Science in Nursing from New York University before coming home to complete her Doctor of Nursing Practice on the Psychiatric/Mental Health Nurse Practitioner track at Cizik School of Nursing.
"While I was doing my clinical rotations for my program, I would see mostly adults," Zamora said. "I did notice a lot of similar trends in adults talking about their childhoods and how it affected them – trauma that caused anxiety and depression. If we have more early intervention, I feel we could improve the outlook for adults." Zamora's sister, a principal at a middle school in an underserved area, also inspired her to try to help children.
Zamora's cohort in the LEAH fellowship included four adolescent medicine fellow doctors from Baylor, four SPH students (including two studying nutrition), and a social work student. Through 300 hours of leadership and didactic experiences from September 2022 to May 2023, they learned about the particular needs of adolescents and young adults ages 10-25. They collaborated on a quality improvement project proposal on improving access to HIV pre-exposure prophylaxis (PrEP) among youth experiencing homelessness. Individually, she completed a research proposal to conduct a needs assessment for a proposed school-based health clinic.
"I think the most impactful thing I learned was how to communicate with different disciplines as well as learning about how to communicate with adolescents in a culturally sensitive way," Zamora said. "I really learned about working in an academic setting, and I feel like I will always have that academic backbone to look into the literature, question articles, and have a curious mindset."
She also established contacts at Texas Children's that led to a job offer with an outpatient psychiatric team after she graduates in August, working mostly with patients who qualify for Medicaid.
"I feel a lot more committed and ready to serve the adolescent population, and I want to be a resource for these children," Zamora said.