Mathew Joseph tests intervention for South Asian Indian women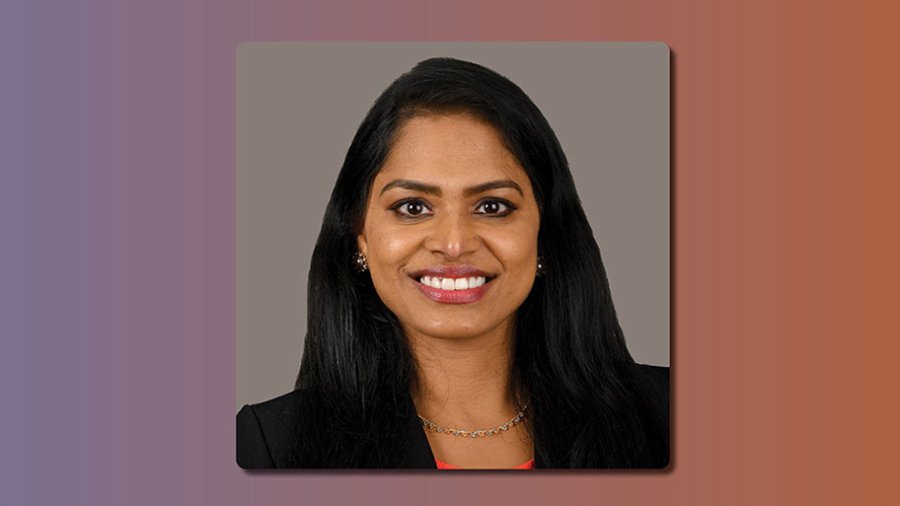 Nitha Mathew Joseph, PhD, RN, CNE, is putting into practice her research into physical activity among South Asian Indian (SAI) women by piloting a "buddy system" intervention that involves health coaching, wearable technology, and health education.
Mathew Joseph, an associate professor in the Department of Undergraduate Studies at Cizik School of Nursing at UTHealth Houston, is one of five researchers selected as Center for Clinical and Translational Sciences (CCTS) 2023 Pilot Awardees. This federal grant (Clinical and Translational Science Award (CTSA)) is sponsored by National Center for Advancing Translational Sciences/NIH/DHHS (NCATS). Each researcher will receive $30,000 in funding.
Mathew Joseph has long studied physical activity among SAI women as it relates to prevention of cardiovascular disease and type 2 diabetes. This population is at very high risk for the latter. Genetic factors may play a role in this troubling trend, and Mathew Joseph's research also has indicated that cultural factors influence physical activity.
Her new project, "A Culturally Adapted, Social Support-Based, Physical Activity Intervention for South Asian Indian Women in the United States: A Feasibility Study," will enroll pairs of inactive SAI women between the ages of 40 and 65. Over a 12-week period, Assistant Professor Sara Lewandowski, DNP, MS, RN, CNE, HNB-BC, NC-BC, who is a board-certified holistic nurse health coach, will provide culturally sensitive health coaching sessions via Zoom using motivational interviewing to promote social support and encourage participants with their physical activity wellness plan. The women also will receive six educational electronic newsletters and Fitbits enabling them to monitor their partner's and their own physical activity.
"Our hope is that developing and testing the feasibility of a culturally adapted, social support-based physical activity intervention and educating SAI women about the health benefits of moderate-to-vigorous physical activity will help them achieve and maintain healthy exercise habits to live a longer and healthier life by lowering their high risk for cardiovascular disease, type 2 diabetes, osteoporosis, and cancer," Mathew Joseph said. "In this study, we will assess the feasibility and acceptability of this novel intervention with the ultimate goal of securing funds for large-scale testing and improving the health and well-being of SAI women."
Mathew Joseph's co-investigator on the project is Larkin Strong, PhD, MPH, an associate professor in the Department of Health Disparities Research at The University of Texas MD Anderson Cancer Center,
Mathew Joseph joined the Cizik School of Nursing faculty as an assistant professor in 2014, shortly after completing her PhD at UTMB in Galveston. In July 2023, she was selected for the Distinguished Alumni Hall of Fame, Rufaida College of Nursing in Jamia Hamdard, New Delhi, India, where she earned her Bachelor of Science in Nursing recognizing her extraordinary contributions to the nursing profession and health care.
The other CCTS 2023 Pilot Awardees are listed below:
Andrea Betts, Assistant Professor, Department of Health Promotion and Behavioral Sciences, UTHealth Houston School of Public Health. "Translating care to adolescents and young adults with cancer in Texas: Identifying care deserts."
Akane Sano, PhD, Assistant Professor in the Department of Electrical and Computer Engineering, Rice University. "There is no place like home - A Pragmatic Effectiveness Trial of Technology-enhanced Outpatient Symptom Management to Reduce Acute Care Visits due to Chemotherapy-related Adverse Events."
Pooja Shivshankar, PhD, Assistant Professor/Research Center for Immunology and Autoimmune Diseases at McGovern Medical School at UTHealth Houston's Brown Foundation Institute of Molecular Medicine for the Prevention of Human Disease. "Screening of microRNAs shuttling in the plasma extracellular vesicles in non-resolvable COVID-19 associated pulmonary fibrosis."
Abigail S. Zamorano, MD, MPHS, Assistant Professor, Gynecologic Oncology, McGovern Medical School. "Distress among Caregivers of Patients with Gynecologic Malignancies Undergoing Chemotherapy."
In this story