Mental health by the numbers
Sobering statistics on provider availability in Texas and the U.S.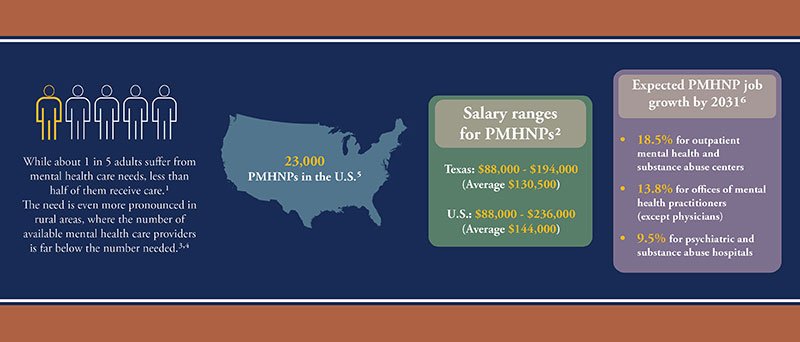 The need for mental health resources has never been greater in Texas and throughout the nation. Texas ranks last in the U.S. for mental health care. The need is even more pronounced in rural areas, where the incidence of mental health issues far outweighs the availability of providers.
---
Unmet needs
1 in 5

– Adults suffer from a mental health issue1

80%

– Texas counties with fewer than one mental health clinician for every 30,000 residents2

168 of 254

– Texas counties without a psychiatrist2

211 of 254

– Texas counties without an advanced-practice mental health nurse as of 20192
---
Psychiatric/Mental Health Nurse Practitioners (PMHNPs)

Expected PMHNP job growth by 20314:
5%

for outpatient mental health and substance use centers

8%

for offices of mental health practitioners (except physicians)

5%

for psychiatric and substance use hospitals

Salary ranges5:
Texas:

$88,000 - $194,000 (Average $130,500)

U.S.:

$88,000 - $236,000 (Average $144,000)
---
Cizik School of Nursing:
Outstanding PMHNP faculty

One-on-one faculty advising

Interactive, hybrid experience

Unmatched clinical opportunities at sites including UTHealth Houston's Dunn Behavioral Center, the largest academic psychiatric center in the country

Unparalleled career opportunities

Our Graduates:
223 – PMHNP graduates to date

56 – Currently enrolled PMHNP students

Bachelor of Science in Nursing to Doctor of Nursing Practice (BSN to DNP) PMHNP track:
1 year – Minimum psychiatric nursing experience required to apply

96-100% – ANCC certification pass rate in the past five years6

$34,000 – Estimated tuition

$41,000 – Estimated total program costs

Learn more about the PMHNP program at Cizik School of Nursing.
---
1National Institutes on Mental Health and Substance Abuse and Mental Health Services Administration
2Texas Department of State Health Services, 2022
4American Association of Nurse Practitioners
5U.S. Bureau of Labor Statistics Employment Projections, 2021-2031
3Indeed.com
6American Nurse Credentialing Center