Three veterans earn 2023 Rodeo scholarships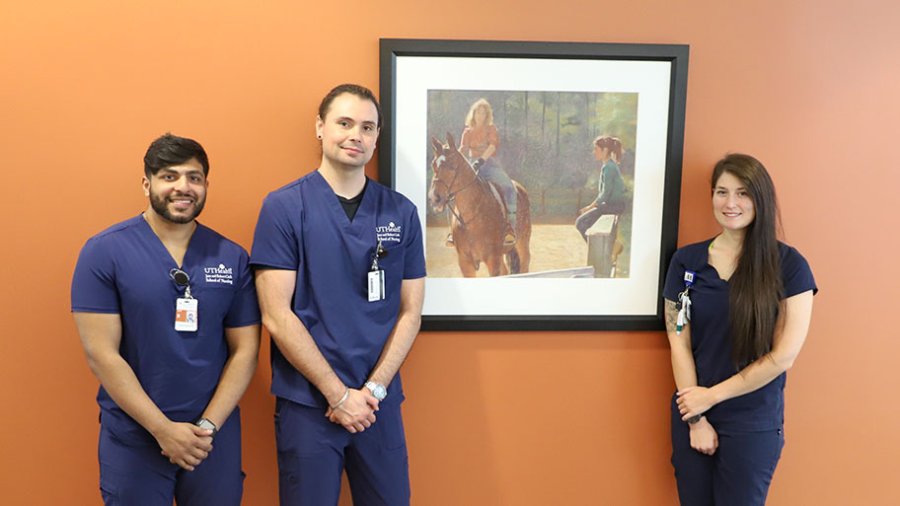 The three undergraduate students at Cizik School of Nursing at UTHealth Houston who are receiving scholarships from the Houston Livestock Show and RodeoTM this year are all U.S. military veterans who plan on working in critical care nursing.
Each of the Pacesetter Bachelor of Science in Nursing (BSN) students will receive a full scholarship and stipend that will help them pay for educational costs and living expenses while completing the accelerated 15-month program.
"We are grateful for the Rodeo's continued support of our veteran students as they transition into civilian life and move into new careers of service as registered nurses," said Associate Professor Bridgette R. Pullis, PhD, RN, CHPN, director of the Veterans BSN program at Cizik School of Nursing. "Counting this year's three recipients, Rodeo scholarships have supported a dozen nursing students in the past six years."
Meet the students
Meghan Faught-McWain is president of the nursing school's Student Government Organization and served 5 ½ years in the Navy as an avionics electrician technician stationed in San Diego, Calif. She later earned a bachelor's degree in biological sciences from the University of Houston Clear Lake. Before applying to nursing school, she worked in research positions at UTHealth Houston McGovern Medical School's Institute of Molecular Medicine and The University of Texas M.D. Anderson Cancer Center. She continues to serve in the naval reserves while working as a tutor and personal trainer.
"Balancing my academic pursuits, multiple jobs, family, and military responsibilities has been challenging, and this scholarship eases the financial burden while serving as a reminder of the support I have received from the veteran community," she said.
Faught-McWain is finishing up the final semester of the Pacesetter program and is on track to graduate in August. She is considering several job offers in Houston-area intensive care units.
Ernesto Treviño is also a Navy veteran and served in a military hospital as a medic. He earned a bachelor's degree in kinesiology at The University of Texas at Austin after discharge and is now a second-semester junior at Cizik School of Nursing. Like Faught-McWain, he aspires to work in an adult or pediatric ICU.
Treviño is a first-generation college student whose love of health care and fitness fueled his interest in nursing.
"Receiving this scholarship will allow me to continue chasing my dreams, and free up time for me to focus on furthering skills such as learning a second language that will make me an even better health care professional," Treviño said.
Jeff P. Thottukandathil also gained health care experience in the military. He has served in the Army Reserves as a combat medic for the past six years. A first-semester senior, Thottukandathil plans to seek a position in critical care nursing after graduation in December. His long-term goal is to become a nurse practitioner.
"The medical experience I acquired in the military solidified my passion for health care and molded me into a better student and future nurse," he said. "This scholarship will allow me to focus solely on my education by reducing my financial burden as a struggling nursing student."
One application for many scholarships

New students are encouraged to complete the Cizik School of Nursing scholarship application as soon as they receive their acceptance letter. You will be considered for all scholarships for which you qualify, and the application remains active for the duration of your academic program.

Learn more about low-costs, financial aid, and scholarship opportunities at Cizik School of Nursing.