Two PhD students take home prestigious awards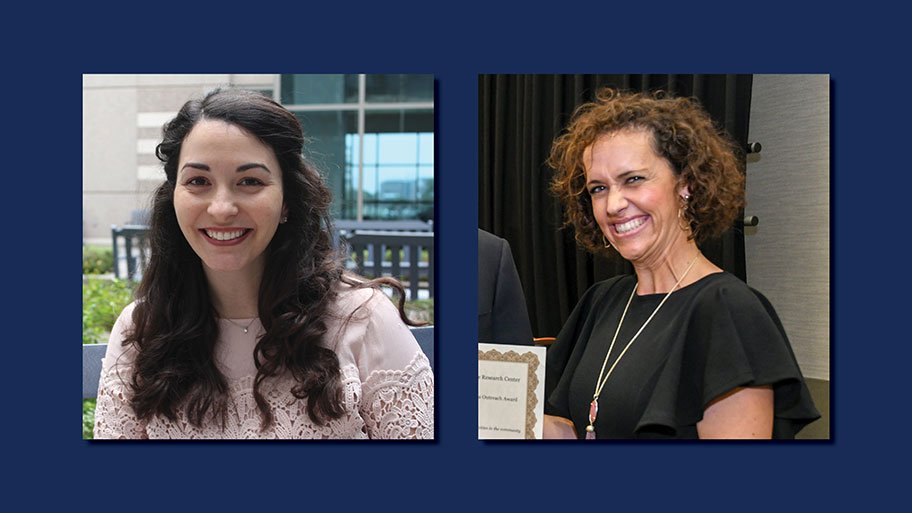 Nurses who choose to purse a Doctor of Philosophy (PhD) in nursing usually bring with them years of experience that fuel their desire to improve lives through research. Such is the case for Abby Kaler, MS, APRN, FNP-C, and Fiona Smith, MS, BSN, RN, both PhD students at Cizik School of Nursing at UTHealth Houston who were recently recognized for their leadership in the fields of oncology nursing and stroke prevention.
Supporting patients with breast cancer
Kaler, who is completing the second year of the PhD program, was named the 2023 Extraordinary Healer by CURE® magazine during the Oncology Nursing Society Congress in San Antonio on April 26. She was chosen from among more than 50 finalists nationwide for the award.
"This is a huge event in the oncology nursing world, and I am absolutely thrilled that Abbey has been recognized for her paradigm-shifting work as a clinician and emerging researcher focused on improving the lives of women living with metastatic breast cancer," said her PhD advisor, Assistant Professor Meagan Whisenant, PhD, RN.
Kaler is the nurse practitioner navigator of the Advanced Breast Cancer (ABC) Program at The University of Texas MD Anderson Cancer Center. The program grew out of grassroots effort by patients with metastatic breast cancer (MBC), their caretakers, and advocates to support this patient population and their families. She was nominated by the ABC steering committee, patients, and advocates for her instrumental role in growing the program.
"Abbey has been deeply involved in a multitude of ways in increasing both the quality and length of lives of patients with MBC," her nominators wrote. "She listens and acts on what she learns from the patient's voice." (Read more in CURE®.)
Kaler survived a cancer scare herself as a child and was treated at MD Anderson, where she returned to work after earning her Bachelor of Science in Nursing (BSN) from Baptist Health Sciences University in Memphis, Tenn. She also holds a Master of Science in Nursing (MSN) from Texas Woman's University and is a recipient of the Jane and Robert Cizik PhD Scholarship.
Kaler says the award confirms that she is on the right path.
"I'm so thankful and honored, but I also recognize that I'm not going to change my job or do anything different," she said. "It just makes me want to come back to work in the morning and see my patients and continue to do what we're doing."
She plans to focus her research on quality of life for patients with advanced breast cancer, the uncertainty they face, and empowering them to make knowledgeable choices about their treatment.
Brainy award
Smith is wrapping up her second semester as a PhD student, but she is already a veteran in the field of neurosciences. She is the second Cizik School of Nursing student to receive the so-called "Brain Award" – the Graduate Student Brain Awareness Outreach Award from the Neurosciences Research Center at McGovern Medical School at UTHealth Houston.
Educating patients and the community about stroke symptoms and prevention is one of Smith's many duties as a performance improvement specialist in neuroscience administration at Houston Methodist Sugar Land Hospital.
"I frequently work with middle school groups throughout Fort Bend County," Smith said.
Recently, Smith has collaborated with Assistant Professor Stuart Fraser, MD, a pediatric neurologist at McGovern Medical School. She was a co-author on Fraser's paper, "Stroke in the Young," which was recently published in Current Opinions in Neurology, and she is assisting him with research into factors that affect stroke outcomes in adolescent populations.
Smith and her Brain Award predecessor, DNP student Andrea Ancer Leal, BSN, RN, LMSW, have both worked with Associate Professor Jennifer S. Beauchamp, PhD, RN, on stroke-related projects including RÁPIDO, the Spanish language acronym for stroke awareness.
"Both of my parents are from Argentina," Smith noted. "I am planning to research cultural and ethnic factors that affect a person's decision to seek care for stroke symptoms."
Smith holds a BSN from Cizik School of Nursing and an MS from the McWilliams School of Biomedical Informatics at UTHealth Houston, as well as a Bachelor of Science in Biomedical Sciences from Texas A&M University.
Smith received the award on April 15 at the 27th Annual UTHealth Houston Neuroscience Research Center Public Forum. The Graduate Student Brain Awareness Outreach Award is open to graduate students through UTHealth Houston. Also receiving the award this year was Pedram Honarpisheh, an MD/PhD student at the MD Anderson Cancer Center UTHealth Houston Graduate School of Biomedical Sciences. In addition, the event honored Alexa Ryder and Michelle Chen with the Distinguished Medical Student Award.