The UTHealth School of Nursing is proud of the more than 9000 alumni who are making a difference in the field of nursing locally and abroad. The connection to the School of Nursing does not end at graduation, and it is our goal to keep our alumni actively engaged just as much in their professional careers as when There are a myriad of ways to get involved and stay connected such as:
It is our sincere hope that the experiences created as students carry forward into active alumni membership.
Alumni Spotlight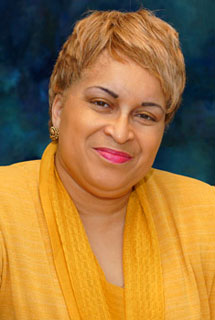 On Sept. 11, MSN Class of 1997 alumna Marylyn Harris was added to the UTHealth School of Nursing's honor roll of 41 Distinguished Alumni since 1972.
Our 2014 Distinguished Alumni honoree is a former Army Nurse and disabled war veteran (serving 1981-92), as well as founder and executive director of the nation's only Women Veterans Business Center. Last year, Marylyn was honored by President Barack Obama as a "White House CHAMPION OF CHANGE," and she also was among 14 female veterans honored during a Women's History Month reception at the White House.
In 2006, she founded Harrland Healthcare Consulting, LLC, of which she is president/CEO. Marylyn was named the 2013 "Veteran Business Champion of the Year" by the Small Business Administration and, this year, she is a Finalist for the "Woman Vetrepreneur of the Year Award" from the National Association of Veteran Owned Businesses.
This fall, she enrolled in the Nurse Executive Track of UTHealth School of Nursing's DNP Program, assisted by a PARTNERS Scholarship.
You're an inspiring role model, Marylyn!