Another Hall of Famer
Yeh receives international honor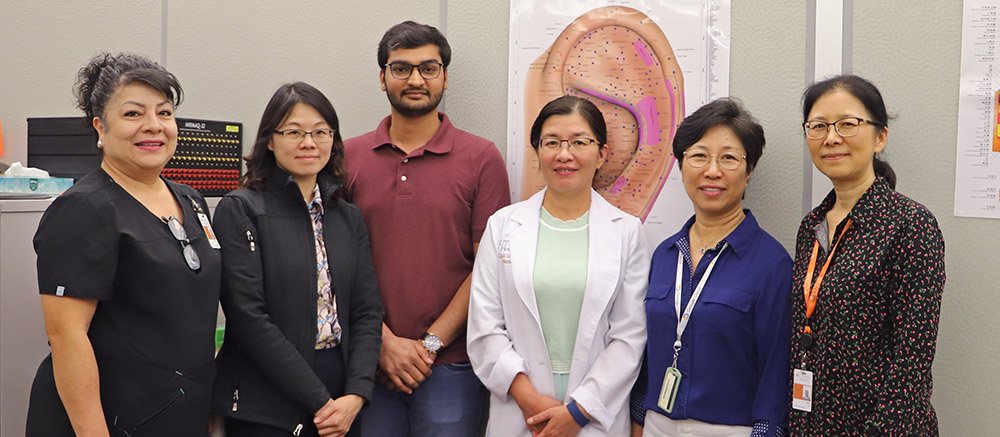 Innovative research into nonpharmaceutical pain management has earned Cizik School of Nursing at UTHealth Houston Professor Chao Hsing Yeh, PhD, RN, FAAN, a place in the Sigma Theta Tau International Honor Society's International Nurse Researcher Hall of Fame.
Yeh, the Jane and Robert Cizik Distinguished Chair, will join 21 other world-renowned nurse researchers at the 2023 induction ceremony during the 34th International Nursing Research Congress in Abu Dhabi, United Arab Emirates, in July.
Since joining Cizik School of Nursing in November 2021, Yeh has continued to build a robust, multimillion-dollar program of research into auricular point acupressure. Yeh studies how and why stimulating specific points on the ears relieves pain in various parts of the body.
Her current research studies include three funded by the National Institutes of Health and a recently awarded $1 million grant from the Cancer Prevention and Research Institute of Texas (CPRIT). The grant will enable Yeh's team to refine a smartphone app that guides patients to self-administer auricular point acupressure.
"I am very grateful to Sigma not only for this tremendous personal honor but for recognizing the importance of scientific research into auricular point acupressure, which is widely used in Eastern medicine and holds great promise for nonpharmaceutical pain relief worldwide," Yeh said.
Yeh is the third Cizik School of Nursing faculty member to be inducted into International Nurse Researcher Hall of Fame. Most recently, Dean Diane Santa Maria, DrPH, MSN, RN, FAAN, was inducted in July 2022 in Edinburgh, Scotland.
"With faculty members of Dr. Yeh's caliber, Cizik School of Nursing's Department of Research is making impactful contributions in many areas of nursing science," Santa Maria said. "Please join me in congratulating her on this international recognition. More people have landed on the moon than are inducted into this prestigious group."
Sigma's very first group of honorees included retired Cizik School of Nursing Professor Nancy Bergstrom, PhD, RN, FAAN, the former Trumble Professor of Aging Research, who was instrumental in developing the Braden Scale for Predicting Pressure Sore Risk.
Pictured: Dr. Yeh poses with her research team.