Epic Education
Students learn to use electronic health record system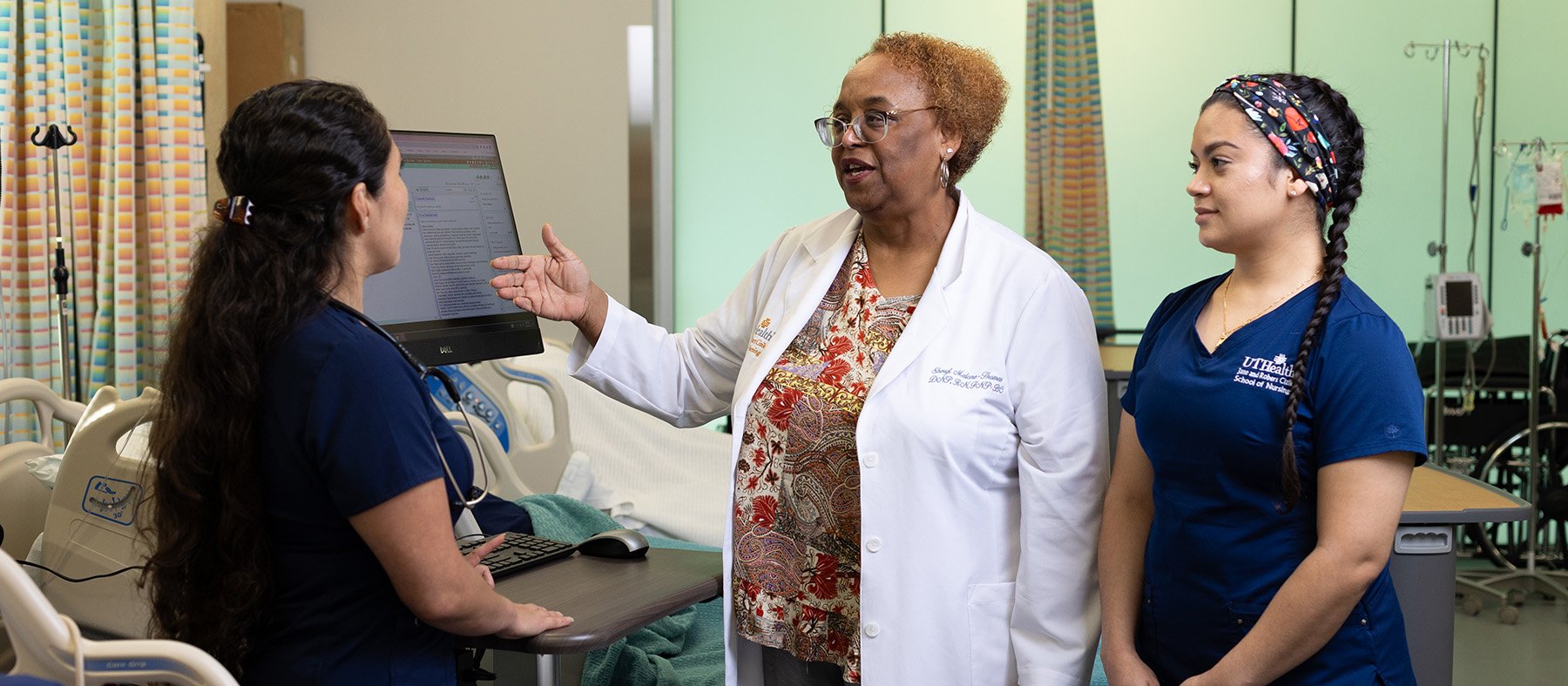 If knowledge is power, then patient information gives health professionals the power to improve quality, efficiency, and outcomes. Cizik School of Nursing students at all levels are learning how to harness this power through hands-on practice with one of the most widely used electronic health record (EHR) systems.
The school began incorporating the Epic Playground into its undergraduate and graduate courses during the Fall 2023 semester. This training environment uses fictional patient data to familiarize students with the Epic EHR, which is used by many hospitals and clinics in the Houston area and across the nation. McGovern Medical School and other UTHealth Houston schools also use the Epic Playground, enabling robust interprofessional simulations.
"It's a real-world experience," said Assistant Professor Sheryl Malone-Thomas, DNP, FNP-BC. When our students learn it in school, they have to spend less time learning it on the job, which makes them more marketable."
Malone Thomas and Assistant Professor Mahrokh "Mitzy" Kobeissi, DNP, FNP-C, spent several days this summer in the Simulation and Clinical Performance Laboratory conducting "train-the-trainer" courses for faculty. Undergraduate students then received training early in the fall semester. Going forward, Bachelor of Science in Nursing (BSN) students will get their first taste of using the EHR in their second semester.
Information and health care technologies represent one of the competency domains set out in the American Association of Colleges of Nursing Essentials, and integration of Epic throughout the curriculum will help the school meet those requirements and prepare students to succeed after graduation, Kobeissi said.
"Ultimately, when you get to leverage real-world technology in the education setting, it really helps to support our students," she noted. The Epic Playground will be phased into the graduate-level nurse practitioner tracks, beginning with an introduction in the physical exam and differential diagnosis course, she added.
Malone-Thomas became an Epic superuser when she served as chief nurse of the HIV, STD, and viral hepatitis prevention unit of the Houston Health Department. In addition to using existing fictional patients when teaching nursing students, she can create new ones in the system.
"I love electronic health records because they give me everything at my fingertips," said Malone-Thomas, who continues to practice in health department clinics.
EHRs enable health professionals to get a comprehensive view of a patient's medical history and status, from vaccination records to test results. They can also prompt users to complete compliance steps, suggest relevant medical literature, and facilitate sharing of secured messages among providers or with patients and pharmacies. Patients can access their own health information securely online through portals like MyUTHealthHouston, an Epic
implementation developed for the university's clinics and hospitals.
Secure video conferencing features within Epic proved invaluable during the COVID-19 pandemic, Malone-Thomas said.
"It helped me a great deal to have an EHR, because it provided more security," she noted. "I felt a level of comfort being able to see my patients."
Each clinic, hospital, or health system can customize Epic to meet its specific needs, so students will undoubtedly have a different experience when they begin work than they did in the classroom. However, even if their employer uses a different system altogether, familiarity with an EHR will significantly shorten their learning curve.
"The vast majority of hospitals in the Texas Medical Center use Epic, and they are thrilled that our students will graduate with extensive exposure to the EHR before hitting their doors," said Dean Diane Santa Maria, DrPH, MSN, PHNA-BC, ACRN, FAAN.