Fajita Pete's funds Pacesetter BSN scholarship
Fajita Pete's funds Pacesetter BSN scholarship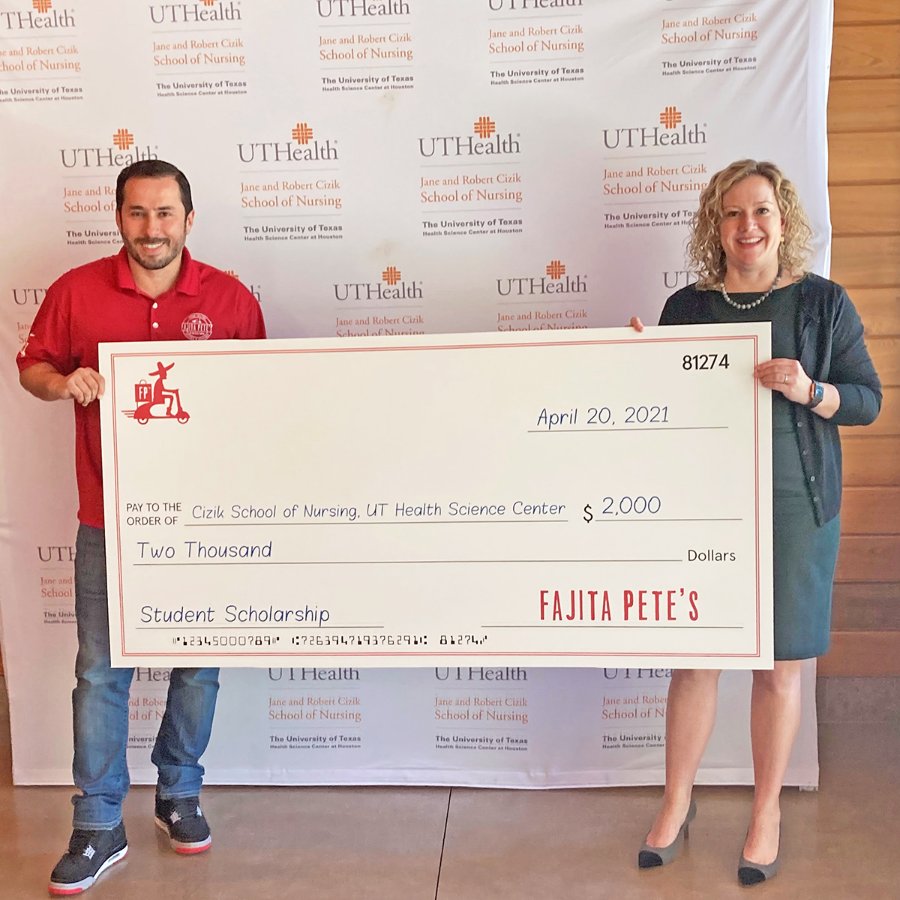 HOUSTON (April 20, 2021) – A generous gift from Pedro "Pete" Mora, founder of Fajita Pete's, will provide scholarship support for students earning a Bachelor of Science in Nursing degrees through the Pacesetter program at Cizik School of Nursing at The University of Texas Health Science Center at Houston.
Mora today presented a check to the nursing school's dean, Diane Santa Maria, DrPH, MSN, RN, and provided lunches for students, faculty, and staff.
"We are extremely grateful to Mr. Mora for this unexpected gift supporting students entering the nursing field," Santa Maria said. "High-quality nursing education has never been more important than it is right now, and supporters like Mr. Mora are vital in helping future nurses from diverse backgrounds achieve their dreams."
Mora immigrated to Texas as a child as his family fled civil war in Colombia. He founded Poblano's restaurant in Houston and later evolved the business into Fajita Pete's, a growing chain of catering and delivery franchises.
"Health care professionals are the true heroes of the pandemic, and it is an honor and privilege to be able to offer support to dedicated students at the Cizik School of Nursing," Mora said. "If being a business owner has taught me anything, it's that success is never a solo achievement. I hope my contribution will encourage others to help give hard-working students a start toward becoming the health care leaders of tomorrow."