Jonas Scholars study mental health of nurses and patients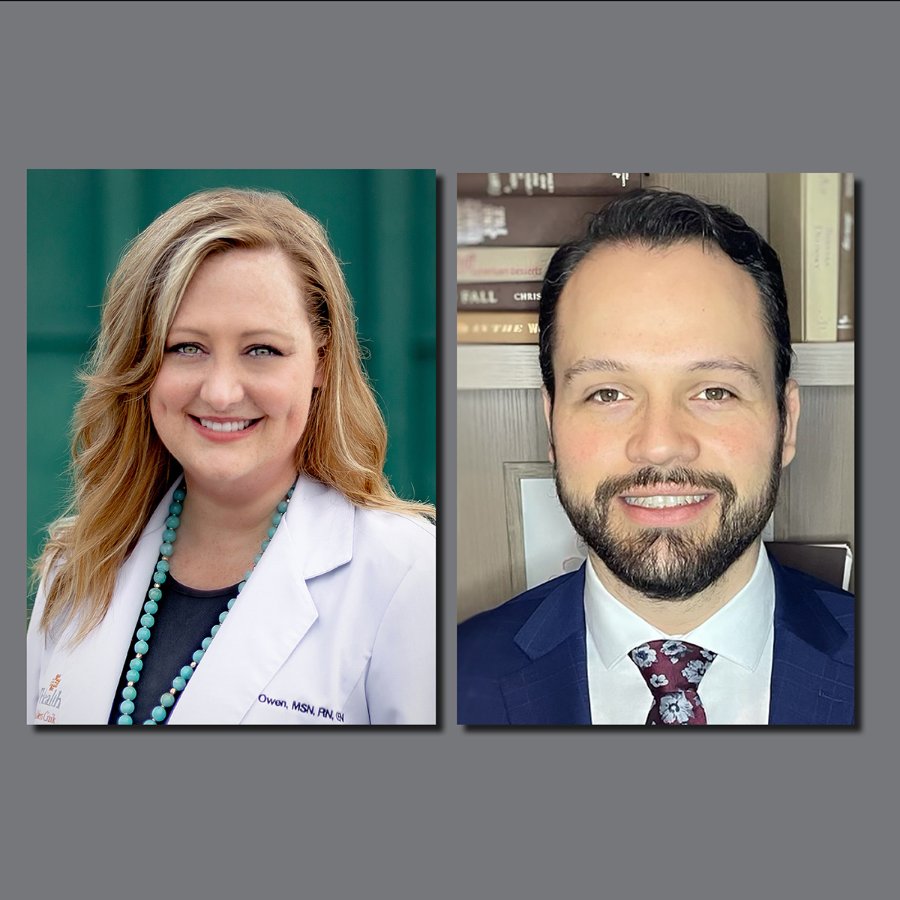 June 16, 2021 – Two doctoral students at Cizik School of Nursing at The University of Texas Health Science Center at Houston have been awarded prestigious Jonas Philanthropies grants, and both will use their awards to study aspects of mental health.
PhD student and clinical instructor Christian Paige Owen, MSN, RN, CEN, and Doctor of Nursing Practice (DNP) student Miguel De La Mora, BSN, RN, are among 75 Jonas Scholars selected from 49 universities nationwide for the 2021-2023 cohort.
Jonas Philanthropies is a leading national philanthropic funder of graduate nursing education. The Jonas Scholars at Cizik School of Nursing are made possible by a grant from Jonas Nursing and Veterans Healthcare. Each $15,000 grant each will be matched by Cizik School of Nursing.
"Each year, we grow more in awe of all our Jonas Scholars have achieved. It is with great honor that we welcome and celebrate this new cohort of nurse leaders," said Donald Jonas, who co-founded Jonas Philanthropies with his late wife Barbara Jonas. "With more than 1,400 Jonas Scholars to date who are committed to meeting the greatest health needs of our time, we look forward to continuing our work with our partner nursing schools and expanding our impact to advance care for the country's most vulnerable populations."
Both Cizik School of Nursing recipients received their awards in the foundation's psych-mental health focus area, with Owen researching stressors for emergency department nurses and De La Mora seeking to improve awareness and reduce the stigma of mental health care among Hispanic populations.
The stress of emergency nursing
With a background as an emergency nurse and a sexual assault nurse examiner, Owen has seen how caring for traumatized patients affects nurses.
"Trauma takes its toll on the nurse both emotionally and physically," said Owen, whose dissertation will focus on factors associated with occupational stress among emergency nurses.
Owen is excited to work with associate professor Maja Djukic, PhD, RN, FAAN, as her advisor for the Jonas scholarship and for her PhD. Djukic has pioneered national research of new graduate nurses to identify key gaps in quality and safety competencies essential for high-value patient care.
Emergency nurses are chronically exposed to trauma as part of their commitment to patient care. "We know this can result in negative effects on their mental and physical well-being, job satisfaction, and ability to recognize patient decline," Owen said. "By understanding how secondary trauma impacts emergency nurses as well as the occupational factors that contribute to traumatic stress, we can better understand the mental health needs of emergency nurses as well as changes needed within the work environment to promote well-being and career longevity."
Owen considers this work especially important due to impact of COVID-19 on health care providers and the expected shortage of nurses in the near future. "My hope as a nurse educator is that these findings can then shape our approach to integrating trauma-informed care into undergraduate nursing education," Owen said. "We need to realize that taking care of the emergency nurse is every bit as important as taking care of trauma patients."
Owen calls herself a "home grown" nurse scientist and educator, having earned both undergraduate and graduate degrees from Cizik School of Nursing. She received her BSN in 2007 and MSN in Leadership and Administration in 2019.
Teaming up for Hispanic mental health
Psych-mental health nursing is a family affair for De La Mora. He and his wife, Andrea Ancer Leal, BSN, RN, LMSW, are both seeking their DNPs to become psych-mental health nurse practitioners with the goal of someday establishing a practice together.
The pair met when he was working as a manager in a bank and she was a social worker at a Houston-area hospital while seeking her PhD at UTHealth School of Public Health. They both decided to change career paths and graduated together from Cizik School of Nursing's Pacesetter BSN program in 2019. Both expect receive their DNPs in 2023, and Ancer Leal is working with Associate Professor Jennifer Beauchamp, PhD, RN, on the RAPIDO© Spanish stroke awareness acronym project.
Since graduation, De La Mora has been working as a nurse on a medical/surgical unit, and he agrees with Owen that many patients hospitalized for physical issues have underlying mental health conditions.
"About 55 percent of our patient population is Hispanic, and a lot of times they come in with medical issues that are related to unfortunate psycho-social situations," he said. "We're treating the medical issue, but it's really a psychological issue that got them into this situation."
De La Mora is developing a DNP leadership project that focuses on the Hispanic community that not only raises awareness but helps changing attitudes toward mental health.
"It is common to deny depression and anxiety," De La Mora said. "We need to help the community know and accept that mental health is real."
His advisor is Kelly Kearney, DNP, RN, PMHNP-BC, assistant professor and track coordinator of Cizik School of Nursing's psychiatric nurse practitioner program.
Sherri Deatherage Green