Mackavey, Goering named track coordinators
Mackavey, Goering named track coordinators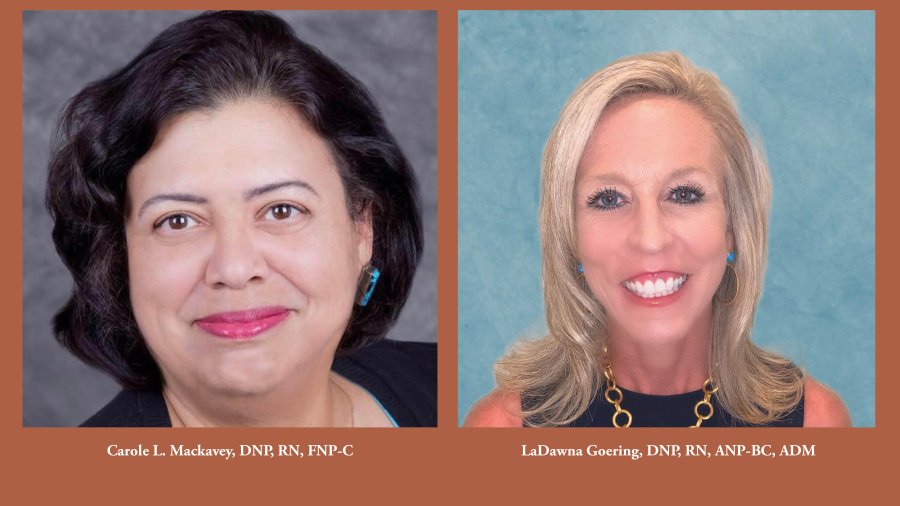 (May 6, 2021) Two faculty members are taking on new leadership roles within Cizik School of Nursing at UTHealth's Department of Graduate Studies effective May 1. Assistant Professor Carole L. Mackavey, DNP, RN, FNP-C, will become track coordinator for Nursing Education while Assistant Professor LaDawna Goering, DNP, RN, ANP-BC, ADM, steps into the same role for the Adult/Gerontology Primary Care Nurse Practitioner (NP) track.
"Track coordinators are essential positions that lead and maintain the rigor and quality of our educational programs, and I am pleased that Dr. Mackavey and Dr. Goering are taking on these responsibilities and this opportunity to develop in their own careers," said Associate Dean for Graduate Studies Susan Ruppert, PhD, RN, FNP-C, ANP-BC.
Dr. Mackavey came to Cizik School of Nursing in 2015 after teaching at The University of Texas Medical Branch at Galveston (UTMB) School of Nursing for four years. At both institutions, she has taught in family nurse practitioner (FNP) master's degree programs. Throughout her career, she has continued her clinical work as an FNP in various settings. Mackavey earned her MSN-FNP at UTMB. She received her DNP and completed a post-graduate certificate program in nursing education at Cizik School of Nursing.
Dr. Goering came to us in 2020 from Illinois, where she served as an assistant professor at Northern Illinois University (NIU). She taught in the master's and doctorate nursing programs and worked as a hospitalist at Edward-Elmhurst Memorial Hospital. She is board certified in advanced diabetes management and specializes in endocrinology. Dr. Goering earned her doctorate degree from the University of St. Francis in Joliet, Ill., her MSN from NIU, and her BSN from Bethel College School of Nursing in Kanas. She is currently completing her post-graduate certificate program in nursing education at Cizik School of Nursing.
In this story