Trailblazing Telehealth
PARTNERS Scholar creates policy framework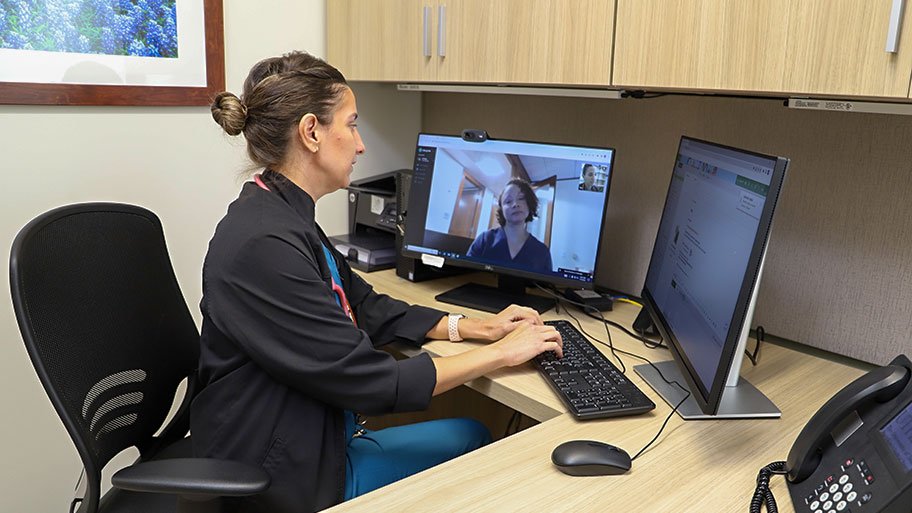 Mahrokh "Mitzy" Kobeissi, DNP, FNP-C, almost withdrew from Cizik School of Nursing's Doctor of Nursing Practice program during her first semester because of financial struggles. A PARTNERS Scholarship enabled her to complete her studies without debt, and today she is an assistant professor and the school's resident telehealth expert.
"I didn't know how much I would be impacted by the PARTNERS scholarship," said Kobeissi, who has published more than a half dozen scholarly articles in the past year about telehealth and artificial intelligence.
Years before the COVID-19 pandemic made telehealth an imperative, Kobeissi established her own practice as a family nurse practitioner, incorporating house calls and telehealth. Her client base consisted predominantly of stay-at-home moms who couldn't easily haul a family of children to the doctor when one got sick. With her experience and her technology in place, she was able to provide care remotely to people stranded by Hurricane Harvey's floodwaters in 2017.
Yet despite its utility — especially in emergency situations — telehealth represented only 0.1% of provider visits with Medicare patients prior to the pandemic. That shot up to 43.5% in April 2020, according to a U.S. Department of Health and Human Services (HHS) report.
However, telehealth use wasn't evenly distributed or equitable. Underserved populations faced many of the same barriers to accessing telehealth as in-person care, such as cost, lack of insurance, and language differences. Limited access to technology added another hurdle. The American Medical Association reported that in 2020, 69% of physicians who used telehealth employed audio only.
In the rush to provide patients the care they needed early in the pandemic, health systems had no time to develop policies based on scientific evidence, Kobeissi noted. Federal and state agencies issued waivers so more providers could conduct patient visits and prescribe medications via telehealth while being reimbursed at the same rates as in-office visits.
By April 2021, the percentage of survey respondents reporting use of telehealth services in the previous four weeks had stabilized in the 20-25% range, based on subsequent HHS Office of Health Policy (OHP) analysis.
Since the federally declared public health emergency expired on May 11, 2023, providers can no longer prescribe some classifications of controlled substances via telehealth. However, Congress extended many of the other telehealth waivers through December 2024. That gives health systems and providers a narrow window to develop policies backed by evidence-based research that demonstrates the quality and safety of telehealth. Solid data will be needed to advocate for making pandemic-era policies supporting telehealth permanent, Kobeissi said.
Cizik School of Nursing faculty are doing their part. Kobeissi's recent work includes a paper co-authored with Professor Emerita Joanne V. Hickey, PhD, ACNP, FAAN, and published in The Joint Commissions Journal on Quality and Patient Safety that describes a new "Organizational Telehealth Program Model" as a framework for health care systems to develop internal telehealth policies.
Similarly, Associate Professor Martina Gallagher, PhD, PMHNP-C, served on an American Psychiatric Nurses Association task force that developed a Telemental Health Toolkit. The 2023 OHP report on telehealth trends indicated that, by late 2021, a quarter of all telehealth claims were for psychotherapy.
Kobeissi encourages other advanced practice nurses to lead by staying informed and getting involved — attend conferences, join professional organizations, and keep up to date with policy developments on the state and national level.
---
Telehealth use
(April 14, 2021 – August 8, 2022)
17.6%


Ages 18-24
22%


All adults
9.4%


Uninsured
26.8%


Medicare recipients
28.3%


Medicaid recipients

Source: Lee, E.C.; Grigorescu, V.; Enogieru, I.; Smith, S.R.; Samson, L.W.; Conmy, A.; De Lew, N. Updated National Survey Trends in Telehealth Utilization and Modal­ity: 2021-2022 (Issue Brief No. HP-2023- 09). Office of the Assistant Secretary for Planning and Evaluation, U.S. Department of Health and Human Services. April 2023.
---