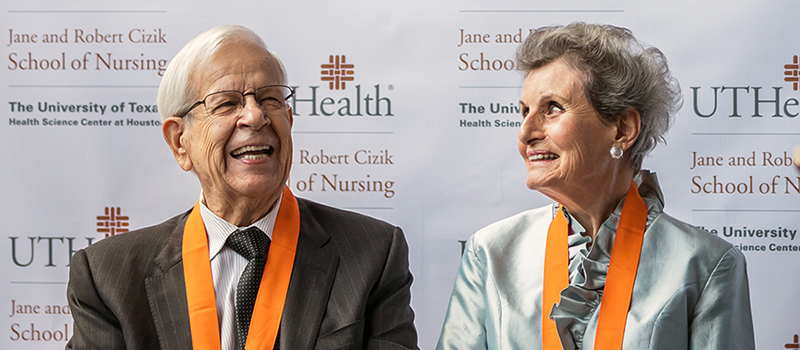 In 2017, Jane and Robert Cizik capped more than two decades of support to UTHealth Houston with a transformational gift of $25 million that endowed scholarships, faculty chairs, and research in addition to a distinguished lecture series at the nursing school. The UTHealth School of Nursing was at that time renamed the Jane and Robert Cizik School of Nursing at UTHealth Houston in their honor.
The Ciziks had long recognized that more skilled, compassionate nurses would be needed to transform the lives of patients and the health care delivery system. The late Robert Cizik chaired a successful $10 million philanthropic campaign to help build the school's $57 million home at 6901 Bertner Ave., and Jane Cizik is a lifetime member of PARTNERS, the school's long-standing community support organization.
Mr. Cizik retired in 1996 as Chairman and CEO of Cooper Industries, a manufacturer of engines, turbines and compressors for the oil and natural gas industry. Under his watch, the company (later acquired by Eaton) grew in value from $60 million to $13 billion. While at Cooper, Robert initiated the company's foundation and matching gifts program, allowing employees to direct its philanthropic giving.
Robert Cizik died June 4, 2019, at the age of 88. Jane Cizik remains a passionate supporter of the school and active PARTNERS member who wastes no opportunity to spread the word about Cizik School of Nursing's vital role in meeting the need for well-prepared nurses and health care leaders.