1972
The School of Nursing opens its doors in March at the nurses' residence of Hermann Hospital, but soon moves into the Hermann Professional Building Annex.
Elizabeth (Betty) C. Jones, PhD, MSN, RN, is named associate dean of the school.
On Aug. 28, 98 undergraduate students are admitted into the BSN program.
1973
The School of Nursing officially becomes one of The University of Texas System Schools of Nursing.
1974
86 students graduate with a BSN.
The school moves to Houston Main Building at 1100 Holcombe Blvd.
MSN degree program is established.
Programs in gerontological, oncological, and psychiatric/mental health nursing are established.
1975
The School of Nursing Alumni Association is formed.
Dorothy Otto, EdD, MSN, RN, becomes acting dean.
1976
The School of Nursing becomes a part of The University of Texas Health Science Center at Houston.
The first MSN students enroll.
1977
Arlowayne Swort, PhD, RN, becomes dean.
1979
Emergency Nursing Program is established.
---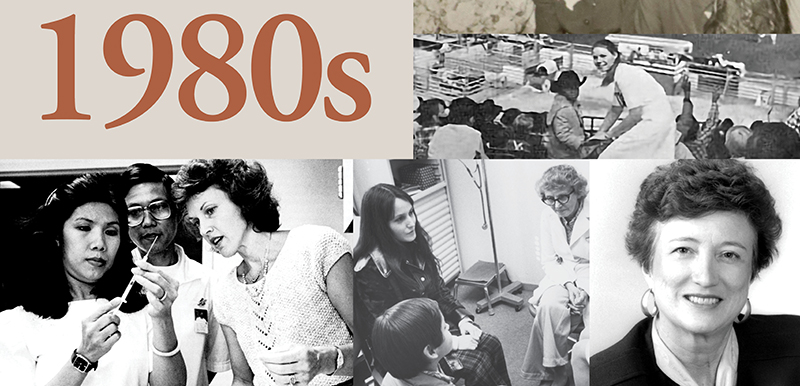 1981
Perinatal Nursing Program is established.
1982
The Zeta Pi Chapter of Sigma Theta Tau National Honor Society is granted to the School of Nursing.
1983
Critical Care Nursing program is established.
1984
Patricia L. Starck, PhD, RN, FAAN, is appointed dean.
1985
RN-BSN Program is established.
Nurse Anesthesia and Women's Health Care Nursing programs are established.
1986
The Center for Nursing Research is established.
1987
The Center on Aging is established.
---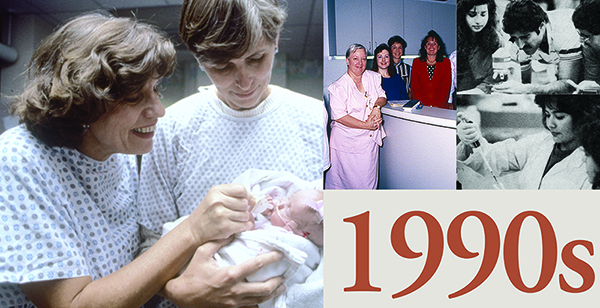 1990
Pediatric Nursing program is jointly established with Texas Woman's University, becoming solely UTHealth Houston's program in 2001.
1991
UT Health Services clinic opens.
1992
13 students graduate with an MSN degree as part of an outreach program that results in The University of Texas-Pan American (now UT Rio Grande Valley) establishing its own master's program in 1994.
1994
PARTNERS is established with Peggy Barnett as its first chair.
Joan Engebretson, DrPH, RN, and Diane Wardell, PhD, RN, receive a patent for the first pacifier designed for low birth weight babies, branded "Wee Thumbies."
Neonatal Nursing Program is established.
1995
The first dual degree MSN-MPH program in Texas begins in Houston.
1996
The Doctor of Science in Nursing (DSN) program is founded.
Acute Care Nursing and Family Nursing programs are established.


---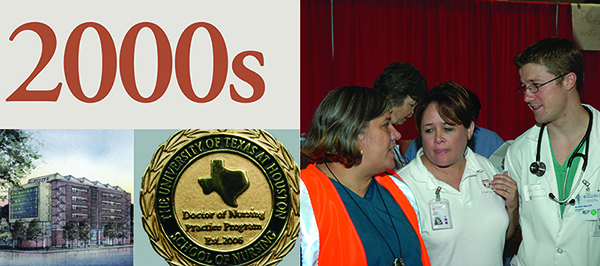 2001
U.S. News & World Report ranks the school's MSN program among the top 12% in the nation.
Tropical Storm Allison floods the Texas Medical Center, June 8-9.
2002
Adult Health Nursing Program is established.
30 graduates are honored as Distinguished Alumni in honor of the school's 30th anniversary.
2004
The Center for Substance Abuse Prevention, Education and Research is founded.
The new $57 million School of Nursing and Student Community Center, 6901 Bertner Avenue, celebrates its grand opening.
2005
The school opens the first biological sciences "wet" laboratory in a Texas nursing school.
Hurricanes Katrina and Rita cause tremendous devastation along the Gulf Coast. UTHealth Houston operates a comprehensive 24-hour emergency health clinic in the George R. Brown Convention Center.
Nurse Leadership and Administration Program is established.
2006
The Doctor of Nursing Practice (DNP) program is established.
The PARTNERS endowment reaches $1 million in funding. The first PARTNERS Professorship is established.
2007
The Pre-Clinical Critical Care Laboratory is constructed.
The title of the Doctor of Science in Nursing degree changes to the Doctor of Philosophy in Nursing. Previous doctoral graduates could request reissue of their diplomas.
A time capsule is installed in the staircase leading from the café to the bookstore as part of the school's 35th anniversary celebration.
2009
$2 million in gift funding is secured for a new Accelerated PhD Program.
In May, the school graduates the state's first nine students ever to earn the DNP degree.
The building is awarded LEED® Gold certification by the U.S. Green Building Council.
---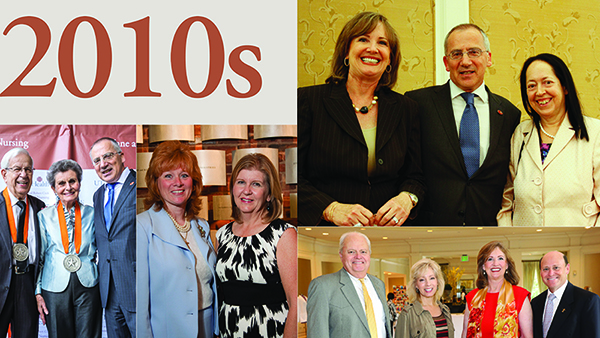 2010
The school partners with Houston Community College's John B. Coleman, MD College for Health Sciences on early decision BSN admissions for associate degree nursing students.
The Patricia L. Starck Accelerated PhD Scholars Program admits 10 students for the fall semester.
The new Pacesetter BSN option is also offered for fall.
2011
Dean Starck becomes UTHealth Houston's Senior Vice President for Community Affairs.
A $500,000 gift endows the Huffington Foundation Chair in Nursing Education Leadership to be held by the dean.
The school agrees to early decision BSN admissions through the Lone Star College System.
2012
MD Anderson's Houston Main Building, the nursing school's home for 30 years, is imploded on Jan. 8 prior to final demolition.
2013
The Council on Accreditation (COA) of Nurse Anesthesia Educational Programs approves the new BSN to DNP degree in Nurse Anesthesia.
A second group of accelerated PhD students is admitted for fall, after a successful $1.3 million fundraising initiative. All 10 members of the 2010 cohort are hired as assistant professors.
2014
In February, Dean Starck announces plans to step down as dean at the end of the year.
2015
Lorraine Frazier, PhD, RN, FAAN, becomes dean on February 1.
The Nursing Informatics track in the post-master's DNP program admits its first students in fall 2015.
2016
In the spring semester, the Veterans' BSN program begins facilitating the transition of U.S. Armed Forces veterans into professional nursing.
U.S. News & World Report cites the DNP program as the highest-ranked in Texas and No. 24 nationwide.
The Ambassador Program is established.
2017
On Nov. 15, in recognition of their landmark gift of $25 million, the school is renamed "Jane and Robert Cizik School of Nursing at UTHealth Houston."
2018
The school's original documentary, "Caring Corrupted: the Killing Nurses of the Third Reich," wins a Platinum award in the prestigious Worldfest film competition.
Frazier concludes her 3 ½ year deanship. Diane Santa Maria, DrPH, MSN, RN, FAAN, is appointed dean ad interim, effective Aug. 20.
A tribute wall honoring the Ciziks' gift is unveiled on Oct. 24.
2019
The BSN to DNP Nurse Practitioner degree program is approved by the THECB for fall 2019.
Robert Cizik dies June 4 at age 88.
---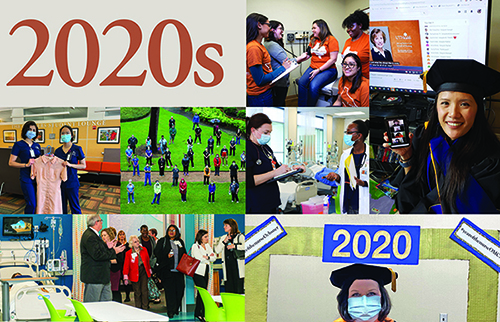 2020
Cizik School of Nursing cuts the ribbon on its expanded Simulation and Clinical Performance Laboratory and its new Smart Apartment.
UTHealth Houston campus shuts down most in-person activities in March due to the COVID-19 pandemic. Socially distanced simulations and testing return to the nursing school during the summer term. Graduates celebrate with virtual commencement and pinning ceremonies.
Diane M. Santa Maria, DrPH, MSN, RN, FAAN, becomes the fifth dean of Cizik School of Nursing, effective Sept. 1, 2020.
2021
Cizik School of Nursing students, faculty, and staff volunteer countless hours at COVID-19 vaccination clinics run by UT Physicians.
Graduates of Cizik School of Nursing, UTHealth Houston School of Dentistry, and UTHealth School of Public Health participate in the first joint commencement ceremony at Minute Maid Park.
Dean Diane Santa Maria serves as co-director of the newly formed Texas Developmental Center for AIDS Research, its Mentoring Program, and its Substance Use Scientific Working Group.
Professor Jacquelyn Campbell, PhD, MSN, RN, FAAN, delivers the inaugural presentation of the Carla Diaz-Lewis Domestic Violence Lecture Series on Oct. 13, 2021.
2022
The BSN to PhD program is established to give nurses interested in research the opportunity to advance their careers more quickly.
UT Health Services moves into its spacious new clinic on the ground floor of the UTHealth Houston Professional Building.
Patricia A. Grady, PhD, FAAN, director emeritus of the National Institute of Nursing Research, delivers the inaugural Jane and Robert Cizik Lecture on March 22, 2022.
Cizik School of Nursing collaborates on a $2.3 million Leadership Education in Adolescent Health (LEAH) fellows HRSA-funded grant led by the Baylor College of Medicine-Texas Medical Center. Student Grecia Zamora is named the program's first nursing fellow.
Cizik School of Nursing celebrates is 50th anniversary with a gala on Oct. 14.
2023
Dean Emerita Patricia Starck is honored by Nurses with Global Impact, Inc., at the United Nations in New York City on May 12.
---