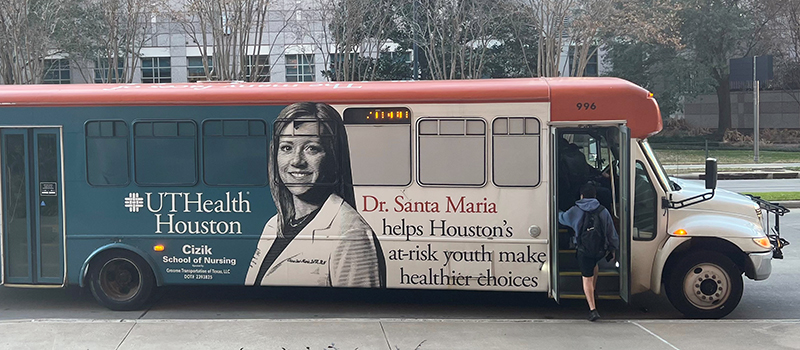 Parking
UTHealth Houston Student Parking offers the most affordable monthly parking rate option for students who plan to drive to campus regularly. You can take the UTHealth Houston Shuttle from the South Campus Lot to Cizik School of Nursing.
Other parking options:
Parking tip:
Students who plan to drive to campus infrequently are encouraged to park in one of the TMC visitor parking garages. TMC Garage 2 and Garage 10 are located along Holcombe Boulevard near Cizik School of Nursing. The small visitor parking lot located next to the school, at the corner of Bertner Avenue and Pressler Street, costs more than the TMC garages.
---
UTHealth Houston Shuttles
The university's shuttles run Monday through Friday, from 6 a.m. to 8:30 p.m., except on university holidays. Any student or employee presenting a UTHealth Houston ID may ride these shuttles for free. The frequency of stops depends on the time of day and the traffic volume within TMC. See the Shuttle Services website for route information.
Shuttle Tracker App
Download the UTHealth Houston Shuttle Tracker mobile app, DoubleMap Bus Tracker, for Apple or Android devices for approximate shuttle locations and wait times.
Shuttle Tip:
Shuttles traveling from the UTHealth Houston student parking lot stop on Bertner Avenue in front of Cizik School of Nursing. For a shorter ride to the student lot, catch the shuttle on Pressler Street by the UTHealth School of Public Health.
---