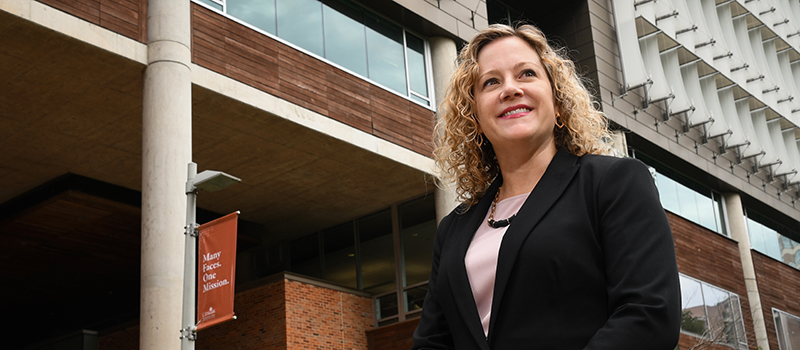 Nursing is a discipline of lifelong learning. New technologies, new scientific discoveries, and different cultural perspectives continually present opportunities to improve patient care. It has been my honor to lead Cizik School of Nursing at UTHealth since August 2018, first as dean ad interim then as dean as of September 1, 2020. I am proud and humbled to work among people who have chosen to dedicate themselves to the profession of nursing – to caring for others in their most desperate hours, to finding solutions that help us return to health, to discovering ways to prevent disease and promote well-being, and to providing the best nursing education for our students – while also being lifelong learners ourselves.
Each student brings their unique life experiences with them to study in one of the nation's most diverse cities. Our exceptional faculty lead in the classroom with innovative ways to educate the next generation of nurses and leaders. Our contributions to a broad range of nursing research are continuing to grow with substantial increases in grant submissions and federal funding.
At Cizik School of Nursing, we do not rest on our past accomplishments. We continuously seek ways to enhance our students' educational opportunities, address health disparities, and make new discoveries. For example, our expanded and remodeled simulation lab helps students prepare for real-world patient care, and our Smart Apartment is a laboratory for testing technology that will help our aging community remain in their own homes as long and as safely as possible.
Our mission is to develop today's students, nurses, staff, and faculty into tomorrow's leaders in nursing practice, education, and research. Our students, at all degree levels, are proud to come here because of who we are, how we stretch them to become exceptional nurses, and how we raise each other up to be the best we can be.
No matter where you are on your educational or professional path, I encourage you to learn more about the Cizik School of Nursing at UTHealth Houston.
Diane M. Santa Maria, DrPH, MSN, RN, ACRN, PHNA-BC, FSAHM, FAAN
Jane and Robert Cizik Distinguished Chair
Huffington Foundation Endowed Chair in Nursing Education Leadership (Email)
Dean, Cizik School of Nursing