Here's to our future Fellows!
Barr, Coviello, and Edwards to be inducted as Fellows of the American Academy of Nursing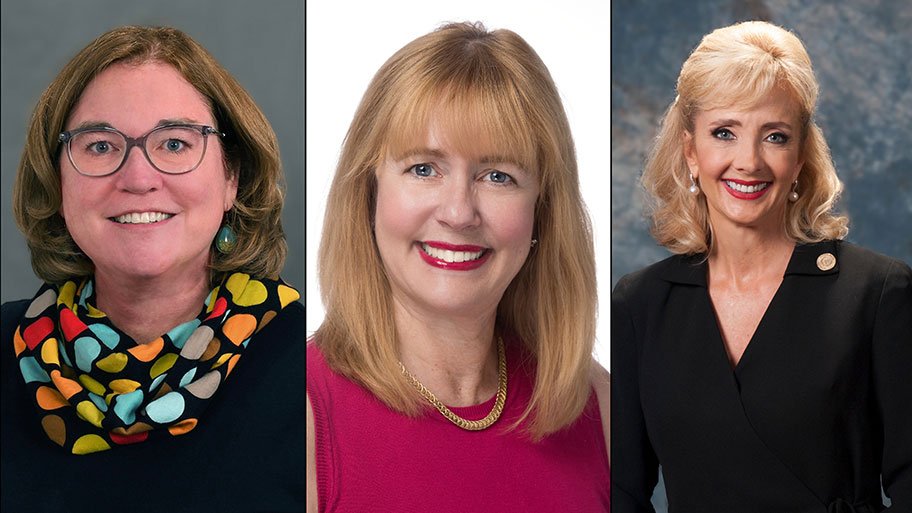 The three Cizik School of Nursing at UTHealth Houston faculty members have been selected to become Fellows of the American Academy of Nursing (FAANs), honored for their sustained and outstanding impact on health and health care. Emily A. Barr, PhD, RN, CPNP-PC, CNM; Jessica S. Coviello, DNP, RN, ANP-BC; and Allison P. Edwards, DrPH, MS, RN, CNE, CDDN, will be inducted at the academy's annual Health Policy Conference on Oct. 7, 2023 in Washington D.C.
The academy recognizes the most accomplished nursing leaders in policy, research, administration, practice, and academia.
"Having three distinguished faculty members inducted in the same year is a testament to the innovative contributions Cizik School of Nursing is making to education, research, and practice," said Dean Diane Santa Maria, DrPH, MSN, RN, FAAN. "Congratulations to all on this well-earned honor."
Barr, an assistant professor in the Department of Research, joined Cizik School of Nursing at UTHealth Houston in 2022. Her research has had a significant impact on children, young adults, and pregnant and breastfeeding people living with HIV. Previously, she was an assistant professor at the University of Colorado School of Medicine, where she managed the pediatric/perinatal HIV and COVID-19 research program and developed the transition clinic for youth moving to adult HIV care. Barr was named Researcher of the Year by the Association of Nurses in AIDS Care in 2022, and her focus is on understanding intellectual humility and building patient-provider trust to support engagement in care. She is currently studying telehealth use and home testing for sexually transmitted infections in youth with HIV in Houston and tele-lactation consultation in breastfeeding people with HIV. Barr earned her PhD from the University of Colorado College of Nursing.
Coviello, the Patricia L. Starck/Partners Endowed Professor in Nursing, serves as associate dean of faculty development at Cizik School of Nursing. Since joining the school in 2021, she has worked with interprofessional teams to develop an innovative advanced cardiovascular nursing educational series as well as a program for faculty growth, development, and mentoring. Previously, she held a joint appointment as an associate professor at the Yale School of Nursing and as an adult nurse practitioner in cardio-oncology at the Smilow Cancer Hospital in New Haven, Connecticut. At Smilow Cancer Hospital, she wrote the needs assessment to support funding for the cardio-oncology program and assisted in its development. At Yale-New Haven Hospital, she created the Take Heart Cardiac Rehabilitation Program. She received her Doctor of Nursing Practice from the Massachusetts General Hospital Institute for Health Professionals in Boston.
Edwards, an assistant professor in the department of undergraduate studies, teaches in the Pacesetter Bachelor of Science in Nursing program at Cizik School of Nursing. Her many accomplishments since joining the school in 2007 include establishing the Joan and Stanford Alexander Fellowship in Intellectual and Developmental Disabilities in 2017, a selective co-curricular opportunity that trains senior nursing students in the care of a variety of prevalent disabilities. She has developed clinical affiliation agreements with many local clinics and agencies focused on caring for people with disabilities. The fellowship earned Cizik School of Nursing the 2022 Innovations in Professional Nursing Award in the Academic Health Centers category from the American Association of Colleges of Nursing. Edwards has served on the Texas Board of Nursing (TBON) since her appointment by Governor Greg Abbott in 2015 and is in her second term as the TBON vice president. She earned her DrPH from the UTHealth Houston School of Public Health.
Merve Erten
In this story