Oyeleye named Assistant Dean of Undergraduate Studies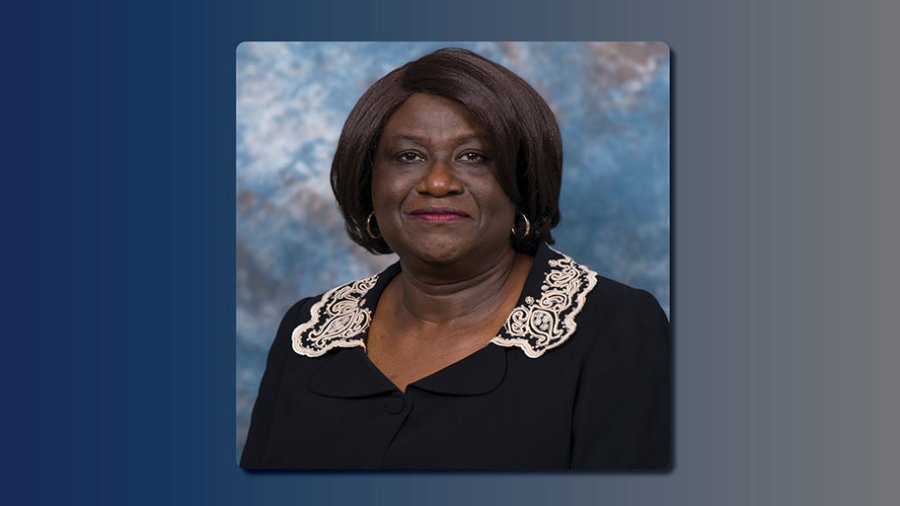 Omobola A. Oyeleye, EdD, JD, RN-BC, CNE, has been appointed Assistant Dean for the Department of Undergraduate Studies at Cizik School of Nursing at UTHealth Houston effective May 16, 2023.
Oyeleye joined Cizik School of Nursing in 2016 as an assistant professor and was promoted to associate professor in September 2022. Her career has combined education, nursing, and the law. She has advocated for people living with disabilities and other marginalized populations as a teacher, attorney, and nurse.
"We are pleased to have Dr. Oyeleye step into this new position. Thanks to her varied background, she brings a unique perspective to preparing future nurses as well as valuable administrative expertise," said Associate Dean for Undergraduate Studies Erica Yu, PhD, RN. "In her new role, she will be responsible for oversight and coordination of program outcomes that aim to lead the faculty in providing high-quality undergraduate education."
The selection of an assistant dean is part of a revised organizational structure within the Department of Undergraduate Studies. Instructors Kennessa Landry, MSN, RN, and Cynthia Young, MSN, RN, lead the accelerated Pacesetter Bachelor of Science in Nursing (BSN) program as junior- and senior-level coordinators, respectively, with Assistant Professor Sara Lewandowski, DNP, RN, as RN to BSN coordinator. Assistant Professor Anitra Frederick, PhD, RN, will step down from the Pacesetter director position as she continues to teach and conduct research at Cizik School of Nursing.
"Dr. Frederick directed our Pacesetter BSN program as we emerged from the COVID-19 pandemic, and we are very grateful for her dedicated and thoughtful leadership during the past two years," Yu said.
Oyeleye earned a Bachelor of Education at the University of Ife in Nigeria and taught English in public schools and colleges in Nigeria and Houston. She received a Master of Education and later a law degree from the University of Houston. Oyeleye practiced as an attorney and mediator before shifting her focus to nursing. She earned a Bachelor of Science in Nursing from Cizik School of Nursing and a Master of Science in Nursing from The University of Texas at El Paso, which honored her with the UTEP Gold Nugget Award in 2022. She received a Doctor of Education from the University of Nebraska.
Oyeleye's clinical experience includes work in medical/surgical nursing and nephrology, and her published works include articles about legal issues relevant to nurses and patients.
In this story