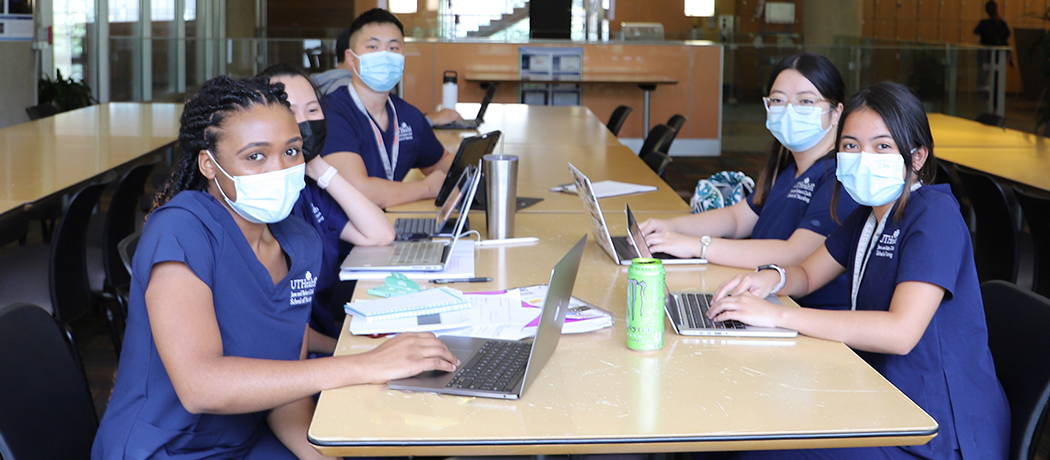 Please note that students admitted into the BSN program must personally reside in the state of Texas before the first day of class. In addition, we are unable to sponsor BSN students requiring F-1 visas.

---
Step 1: What you will need to apply:


Online application and nonrefundable $60.00 application fee. Fees are not transferrable between terms or programs.
Official transcripts from all post-secondary institutions attended. Electronic submission is preferred. Official transcripts may be sent directly from your post-secondary institutions to student-admissions@uth.tmc.edu. Transcripts will not be accepted if emailed from the student. Transcripts submitted on paper must be printed within six months of receipt and be in a sealed envelop from the issuing institution.
If you have previous college coursework from another country, you must have coursework evaluated by Educational Credential Evaluators (ECE). This information will be used to determine which courses can satisfy the prerequisites.
Official HESI A2 Entrance Exam scores. Cizik School of Nursing's Department ID is 198326.
No exceptions are allowed regarding the minimum requirements or materials. The applications and all supporting materials must be received by the stated application deadline.


All application materials must be sent to:
Office of the RegistrarThe University of Texas Health Science Center at Houston
PO Box 20036
Houston, Texas 77225-0036
student-admissions@uth.tmc.edu
713-500-3388
Once an application is received, you will be assigned a seven-digit application ID and granted access to applyUTH, where you can track the status of your application materials. If you have questions about whether transcripts or documents have been received, please contact the Registrar's Office at 713-500-3361.


Minimum Admission Requirements:
3.00 GPA or higher in the required 60 hours of nursing prerequisites.
3.00 GPA or higher in the required science prerequisites.
Please note: Cizik School of Nursing's Pacesetter BSN track is highly competitive, and the average GPA of accepted students exceeds the minimum requirements indicated above. In recent semesters, that average has been approximately 3.5. Students who are denied admission are allowed to reapply without penalty (a new application and fee must be submitted).


Prerequisites:
You must complete at least 48 prerequisite hours, including 16 hours from the science prerequisites (Human Anatomy and Physiology I and II, Microbiology and Chemistry), to be considered for admission. Learn more about specific requirements, and review the Texas Common Course Numbering System and the Prerequisite Transfer Guide. We do not have counselors available to review your transcripts before you apply.


Transcripts:
Official transcripts received after the deadline will not be included in the admission review process. Students offered admission must provide final transcripts from all schools, showing successful completion of all prerequisite courses, before first day of class.


Before you take the HESI A2:
Applicants are encouraged to apply to the Cizik School of Nursing Pacesetter BSN track before applying to take the HESI A2 Exam. This will enable you to use the seven-digit application ID number you receive from the school when applying for the HESI to ensure that your test results are correctly associated with your application.
Be sure to use Cizik School of Nursing's Department ID: 198326.
The HESI A2 Exam must be taken by the application deadline.
---
Step 2: Admission Decisions

The Pacesetter BSN track enrolls approximately 130 students for each term, including fall, spring, and summer.
Cizik School of Nursing at UTHealth Houston's admission policy describes multiple factors taken into consideration in the admissions process. These admission factors are not assigned a specific weight or point value. Cizik School of Nursing considers the totality of each application and considers each of these factors.
Cizik School of Nursing's Baccalaureate Council makes all admission decisions. Applicants are evaluated on overall academic, prerequisite, and science course performance in addition to the results from the HESI A2 Entrance Exam and other admission factors. All decisions are final and cannot be appealed.
Students who are denied admission are allowed to reapply without penalty by submitting a new application and a $60 application fee.


Notification:
Once a decision is made, ApplyUTH is updated with the application status. If you are admitted, you will receive an email and a letter in the mail. If you are denied, you will receive a letter in the mail.
Please see the applications deadline page for approximate notification dates.


---
Step 3: Pre-enrollment requirements for accepted students


Acceptance to Cizik School of Nursing is contingent upon successful completion of outstanding prerequisites (if any), immunizations screening, immigration status clearance, Health Care Provider Basic Life (BLS) Support CPR certification, clearance of the mandatory drug screening test, and mandatory criminal background checks required by UTHealth Houston and the Texas Board of Nursing.
You must complete the American Heart Association Basic Life Support (AHA-BLS) for the Health Care Provider course before any clinical placement. You may choose to take the AHA-BLS through Cizik School of Nursing's Simulation and Clinical Performance Laboratory.
Get all the details in our New Student Guide.


Essential Skills for Nursing:
Nurses must be able to demonstrate cognitive skills in critical thinking and logical/analytical thinking. Nurses must also have psychomotor skills, including fine motor dexterity, physical strength, coordination, and proper body mechanics. Observational skills are also required, such as the ability to hear within the normal decibel range, the ability to read English in regular to extra-fine print, and the ability to palpate/auscultate. Students must be able to demonstrate these skills, with or without reasonable accommodation. See HOOP 101, Disability Accommodation.